Surprise: eating fried food is one of them.
As most bros and lovers of body glitter are well aware, the Victoria's Secret Fashion Show went down last night in NYC. With a cast including the likes of everyone newbies Gigi Hadid and Kendall Jenner to OG Angels Adriana Lima and Alessandra Ambrosio, the show was nothing short of Insta-bait of the highest order. While we're cool with feasting our eyes on runway snaps for the time being, we've got bigger plans on the horizon; that is, the actual viewing of the show when it airs on television on December 8th.
When it comes to the act of spending hours staring at hyper-toned bodies in neon push up bras, though, it makes sense to have some ground rules. So what are ours? Glad you asked (and if you didn't, we're telling you anyway).
1. First and foremost, accept that what you?re about to do will leave you with mixed feelings on your body image at worst and an inescapable urge to buy some pink lip gloss at best. Remind yourself that it?s the actual, literal career of these models to look the way you do and whether you have the time to look the same way (or not) has no effect whatsoever on your value as a human.

Okay, pep talk over. Let?s listen to crappy pop music and look at lingerie.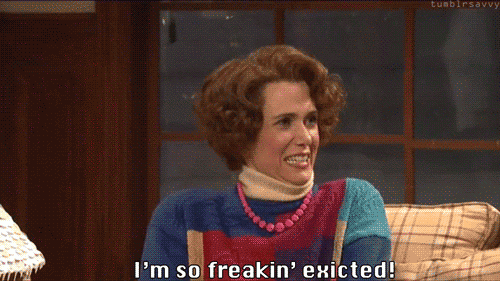 2. Dress yourself in whatever clothing most closely imitates the sensation of being swaddled in a duvet. Alternative dress code options include your most perilously high-heeled pair of stilettos if you plan on practicing your runway walk.

3. Pour yourself a glass of moscato. Keep the bottle nearby if you plan on turning this event into a drinking game (first rule: finish your drink every time you hear the anonymous movie trailer voice?you know, the one that proclaims that you?re watching ?the greatest fashion event on earth??).

4. Promptly pour one out for T. Swift, whose absence is likely sorely missed by Lily Aldridge, Martha Hunt, and all the other gals who could have been recruited to her squad this year.
5.
Reconsider for the thousandth time your stance on body shimmer, spray tan, and those infamous sickly sweet body sprays (
Pure Seduction
, anyone? #memz).

6. Pause during a commercial break to grab some mozzarella sticks, a green smoothie, or whatever snack makes you feel all warm and fuzzy inside.

7. Check on the status of the
petition
for Victoria?s Secret to diversify their cast and get excited at the prospect of seeing the likes of Ashley Graham stomp down the catwalk. Sign your name a few more times.
8. Pray to the fashion gods that Kendall Jenner will use this winking/waving-friendly runway to display some semblance of a personality for the first time ever. Hope she takes some pointers from Adriana Lima, the Queen of the Sassy Gif-able Pose.
9. Vow that you?ll seriously start wearing matching bras and underwear on a daily basis. Consider the cost of revamping your lingerie collection and make peace with the fact that the idea is much better in theory than in practice.
10. As the confetti flies and the credits roll, feverishly look up ?VS Fashion Show makeup? YouTube tutorials. Become instantly mesmerized by Dick Page and his
fast-talking genius
.

Bonus Rule: LOL at this shot of Ellie Goulding lurking in the shadows of Gigi's butterfly wings.
Image via Just Jared and Harper's Bazaar